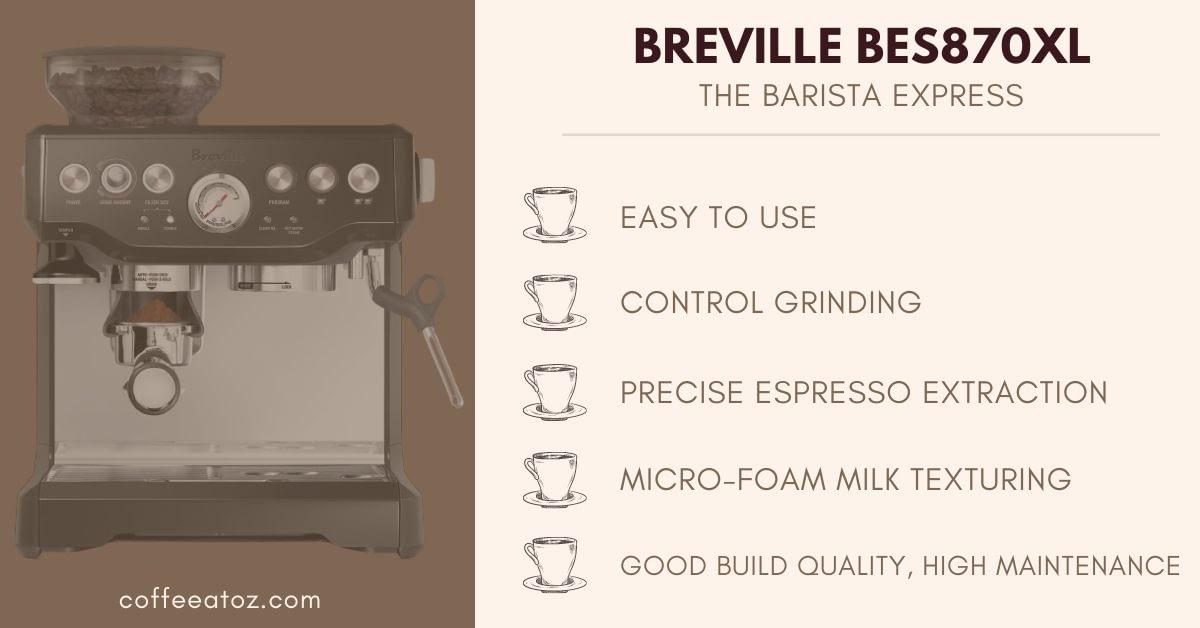 A lot of factors contribute to a good coffee or espresso. If only one of them is off, like just the temperature at which the water passes the coffee- our espresso will taste very different. Baristas are well aware of it and they pay their full attention when making a certain kind of coffee.
Coffee makers are programmed to be accurate and most of the time, they are quite good at what they do. Some coffee makers do it all by themselves while some require you to direct them. So, which kind do you want? If you want to have a moderate level of control over the espresso you make then this Breville Bes870xl review is for you.
The Breville Bes870xl is an espresso machine that gives you a certain amount of control while making important conditions available for you. Let's check out its features to see what it can offer.
Disclaimer: This page contains multiple affiliate links. We state that we may earn from qualifying purchases. See Details.

Breville Bes870xl Review: The Features
Breville does not seem reluctant to offer as many features as it can to make things easier for the coffee maker.
Control Grinding
If you know a thing or two about coffee, you know that freshly ground coffee tastes the best and has the most flavor. So, most coffee enthusiasts prefer espresso machines that come with a grinder. Luckily, this Breville machine comes with its own grinder.
The grinder is not just any grinder you find in the market. Apparently, it is a high-quality grinder that helps you in multiple ways. Firstly, you can control the number of beans you want to grind.
For each cup of espresso, you have full control over the number of beans you grind so that none of the remaining beans go to waste. Furthermore, you can control the size of the grind. It can be done easily with a dial that is at the front of the machine.
You can be sure that you will enjoy the best flavors of coffee when you use this machine.
Precise Espresso Extraction
Remember when we said that even the temperature matters when it comes to the perfect coffee? Keeping that in mind, this espresso machine delivers water just at the right temperature to make the coffee. It has digital temperature control which makes sure that the temperature of the water is perfect when it passes the coffee filter.
Micro-Foam Milk Texturing
Extracting the coffee from this coffee machine is completely easy. However, if you want to make a latte and use the milk frother, it still won't be very difficult. Apparently, the steam wand is made in such a way that it offers you the ease of use. You can even do latte art thanks to the way this espresso machine delivers.
Maintenance and Quality
This Espresso machine falls somewhere between cheap and expensive when it comes to espresso machines. The functions it helps you with are quite difficult. Apart from that, it actually has quite a good build quality that is meant to last.
At times, parts like the grinder fail, and you have to replace it or work on it. Apart from that, maintaining this machine is a bit tough. It's because you have to clean regularly by removing the drip tray. It does not have any self-cleaning feature to help you.
It comes with a one year warranty which won't be of much use.
The Ease of Use
Except for the cleaning part, you will find this espresso machine quite easy to use. However, if you like to take your coffee without putting much effort then this might not be for you. Because it needs your directions to make coffee.
You have to set up the grinder settings and everything else, every time you make a cup of coffee. It has single and double shots which are quite helpful. While setting the machine up is easy, doing it every day can get boring and lengthy.
Apart from that installation is easy and the machine has a good capacity too. In fact, the bean hopper has a capacity of 1.2 lb and the water tank capacity is 67 oz.
Breville Bes870xl Review: Pros and Cons
What we like:
The machine offers a lot of control to the coffee maker.
The grinder can be set to different settings- you can select both the grind amount and the grind size.
It keeps the flavor and aroma of the coffee beans.
The steam wand is quite helpful because it lets the barista even do latter art easily.
The machine delivers water at just the right temperature.
It has a good quality build that is long-lasting.
It looks quite good anywhere.
Easy to install.
Good value for the money.
What we don't like:
It can get lengthy to adjust the settings of the grinder for every cup of coffee.
The machine has to be cleaned after every use and no self-cleaning
There may be parts that stop working.
Short warranty.
Breville The Barista Express Available Options
| | | |
| --- | --- | --- |
| | Breville the Barista Express Espresso Machine, BES870XL | |
| | Breville BES870BSXL The Barista Express Coffee Machine, Black Sesame | |
| | Breville RM-BES870XL Barista Express Espresso Machine , Silver (Renewed) | |
| | Breville BES878BSS Barista Pro Espresso Maker, Brushed Stainless Steel | |
| | Breville BES810BSSUSC Duo Temp Pro Espresso Machine, Stainless Steel,medium | |
Breville Bes870xl Review: Frequently Asked Questions
Why is the coffee puck wet?
When a coffee puck is wet, in most cases, nothing is broken. All you have to do is put the right amount of coffee in the filter. Or, maybe the coffee is too fine. Work on these two and the puck will no longer be wet.
What is the difference between the 860 and 870 models?
Apparently, the 870 model has a better Thermo-coil design. This makes the 870 more durable and also better at its job.
Can you program it?
Apparently, the 870 model has a better Thermo-coil design. This makes the 870 more durable and also better at its job.
Final Words Breville The Barista Express
From the Breville Bes870xl Review, you can quite understand that this espresso machine requires a lot of effort from its user. If you want to make your coffee precisely the way you like it, every time then this is for you. Moreover, if you love the process of making coffee, then this machine is for you. Otherwise, you might get fed up programming this machine before every cup. It is quite a valuable unit as long as you take good care of it.